Striving for Excellence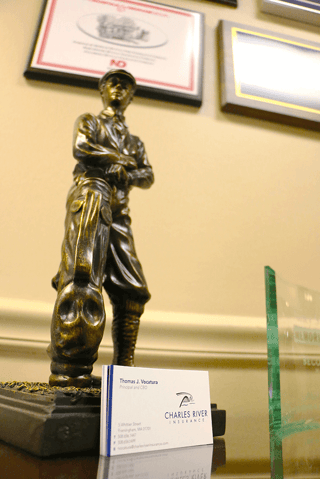 Charles River Insurance is about bringing the knowledge and expertise of national insurance carriers to New England, without the hassle and cost. Our agents are former leaders in risk management and financial services, and all are innovators in the insurance space. We ground our work in creativity, experience, and passion to maximize personal and commercial insurance products for our clients.
Our commitment to serving New England's insurance needs hasn't changed since our early days in Sherborn, Massachusetts. When we started in 1998, it was with the intention to become a premiere New England independent insurance agency.
Today, Charles River Insurance is one of the fastest growing property and casualty agencies in the Massachusetts region. Our business is largely built on client referrals, a fact we believe says a lot about our commitment to customer service. Since our inception, we've added a Risk Services division and become part of the Waters Insurance Group, a network of top agencies in New England, all with the intention of creating a seamless and gratifying experience for our clients.
We take our growth in stride, and we aren't satisfied with being just a top Massachusetts agency. Our goal is to be the best, both for the people we serve and our professional growth. We believe in quality over quantity, and while we've remained the size of a boutique broker to give our customers the personalized service they deserve, our producers and advisors are experts at working with clients big and small.
There's more to our story, but we're interested in hearing about yours. A strong client relationship starts with a phone call, email, or visit to our office. We welcome the opportunity to get to know you better, and to help change the way you look at insurance.